Kimberly & Courtney Goode – April 24, 2013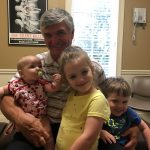 Our beautiful daughter Courtney was born in November 2010. As all babies do, she changed our life dramatically in so many ways. We couldn't be happier with all the changes she brought us, except for one change that really affected us more than we could have imagined. We went from receiving 8 hours of sleep a night pre-baby to 2-3 hours (if we were lucky) post-baby.
We were prepared for sleep deprivation but what we were experiencing wasn't normal. Courtney didn't sleep at all. She would "cat nap" she would sleep 10-20 minutes and then she would be up for 5 or 6 hours. This was her routine. Day or night it was the same sleep for 10-20 minutes, up 5 or 6 hours there were no long stretches of sleep. Once in a while, if we were lucky, she would sleep for an hour but it was never a restful sleep. She would toss, turn, and moan the entire time she was sleeping. It was very had to get her to sleep and even harder to lay her down. She would scream like she was in pain every time we laid her down to sleep or even change her diaper. One of us would stay up with her at all times because the only way we could get her to sleep, even for 20 minutes, was to hold her. We were getting extremely exhausted.
Sleep wasn't our only concern. We spent a lot of time at the pediatrician for the first 6 weeks of her life. Courtney wasn't gaining weight well. She was a very colicky baby and suffered from horrible gas pains non-stop. We tried everything that was recommended by her pediatrician, our family, friends, and all the baby books. We tried different bottles, different kinds of formula, gas drops, herbs, we tried everything. Nothing helped. Our pediatrician became concerned because at 2 months old Courtney still wasn't gaining a lot of weight. He ordered an ultrasound on her stomach to see if she had a blockage in her stomach or intestines. The ultrasound came back inconclusive because our poor baby had so much gas in her intestines they couldn't read the test. We were told to keep trying different formulas and not to worry "all babies cry and are gassy".
Dr. Franks had asked us to bring Courtney in to him several times however this is our first baby and we were beyond over protective of her. We barely let her grandparents hold her. There was no way we were going to let a chiropractor work on our brand new, 2 month old baby. While my husband was a little more receptive of the idea of taking her to Dr. Franks, I drug my feet. I was very skeptical of the whole idea. However, after complete exhaustion set in from 2 months of sleepless days and night and all the crying (from me and the baby) I finally gave in and we took Courtney to see Dr. Franks.
I will be honest; it was very difficult for me to hand my baby over to Dr. Franks during that first visit. I didn't trust this very much at all. Dr. Franks calmed my fears by showing me how gentle of a touch he uses on babies. There were no cracking and popping sounds. It was quick, painless and Courtney seemed to even enjoy it. Her first adjustment went very well.
After Courtney's second adjustment we were already noticing a big difference in her. She went from sleeping 20 minutes at a time to sleeping 2-3 hours! After each adjustment the sleeping kept increasing and after only 2 weeks of adjustments (6 adjustments total) our baby was sleeping 8 hours a night! Her gas pains were totally gone and she was a totally different baby. She use to be very rigid and was not easy to cuddle or hold. She became very relaxed and cuddly. There was no more crying when we laid her down to sleep or to change her diaper. She started growing and gaining weight. She became a much happier and content baby and we became much happier parents. After 6 weeks Courtney was sleeping through the night and waking up happy, content, and well rested. Courtney and Dr. Franks formed quite a bond she is always so happy to see him and smiles and talks to him during her adjustments. Courtney will be 2 years old in November and we still come to see Dr. Franks. I have to admit that I had very little faith in chiropractic care for infants. The thought of it made me cringe and I had a hard time giving into my fears. But I am so glad we did this. This is the best thing we have done for our little girl. I strongly recommend parents consider chiropractic treatment for their babies, especially if they suffer from colic.
Courtney is so different from when we first came to see Dr. Franks she is a happy and content little girl she is always so excited to go and see Dr. Franks and his staff she always has a big smile and loves to talk with everyone. Thank you to Dr. Franks. You have changed our lives, and as Courtney says "Happy Day".